Scleral lenses are rigid gas permeable lenses that sit entirely on the sclera and a well-fit scleral lens vaults the cornea and limbus completely. In most cases, scleral lenses are fit in cases of corneal ectasia, especially in moderate to advanced keratoconus (1). However, this beautiful technology has also seen application in the management of ocular surface disease and other areas of eye care (2,3).
Before diving into the therapeutic benefits of this device, a little background on scleral lenses would be important. The scleral lens itself has 3 general zones, the central optical zone, the transition zone, and the landing zone which can be customized to achieve a good fit (4). As mentioned earlier, these lenses sit entirely on the spongy conjunctiva without making contact with the cornea; between the lens and the ocular surface, it vaults there is a fluid-filled reservoir.
The fluid reservoir beneath the lens also aids in the correction of corneal irregularity by neutralizing the irregular surface, combined with the rigid optics of the lens this brings about vision improvement. It is recommended that the fluid reservoir thickness underneath the scleral lens be less than 200 microns to avoid corneal edema (5), however, studies have shown clinical success in patients fit with high fluid reservoir thickness (6).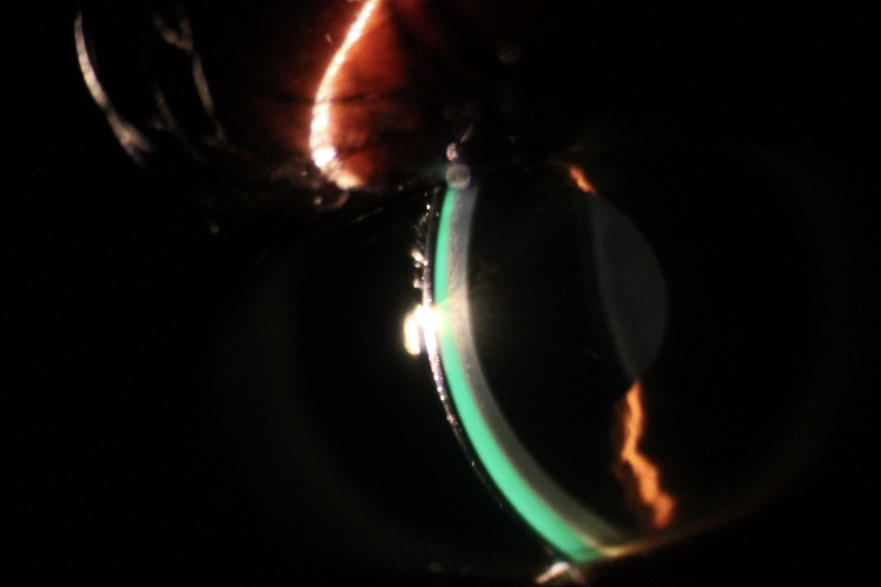 Persistent Epithelial Defects
An epithelial defect failing to heal or re-epithelize after standard therapy in 14 days is termed a persistent epithelial defect (PED) (7). This condition leads to significant discomfort, corneal damage and poses a risk of microbial keratitis. Scleral lenses have been successfully used in managing PEDs when applied with preservative-free antibiotics and even corticosteroids applied into the fluid reservoir prior to their application. In a case series applying the scleral lens technology for PEDs, re-epithelization occurred as early as 7 days in some cases with others requiring application of amniotic membrane grafting together with extended scleral lens wear (8). The scleral lens bathes the fragile corneal epithelium with moisture and protects it from the constant rubbing effect of the eyelids.
Severe Dry Eye Disease
The Tear Film Ocular Surface Society Dry Eye Workshop II (TFOS DEWS II) defines dry eye disease as a multifactorial disease of the ocular surface characterized by a loss of homeostasis of the tear film and accompanied by ocular symptoms, in which tear film instability and hyper-osmolarity, ocular surface inflammation and damage, and neuro-sensory abnormalities play etiological roles'(9). While there are several management options for dry eye disease, the TFOS DEWS II report on the management and therapy for dry eye disease recommends rigid gas permeable scleral lenses as one of the tools available for eye care practitioners to effectively manage severe dry eye disease (10). The fluid-filled reservoir underneath the scleral lens bathes the cornea and ocular surface underneath the scleral lens providing symptomatic relief from dry eye disease and management of ocular surface disease in conditions such as severe dry eyes in patients with severe dry eyes and ocular surface disease as in ocular graft versus host disease and Steven Johnsons syndrome.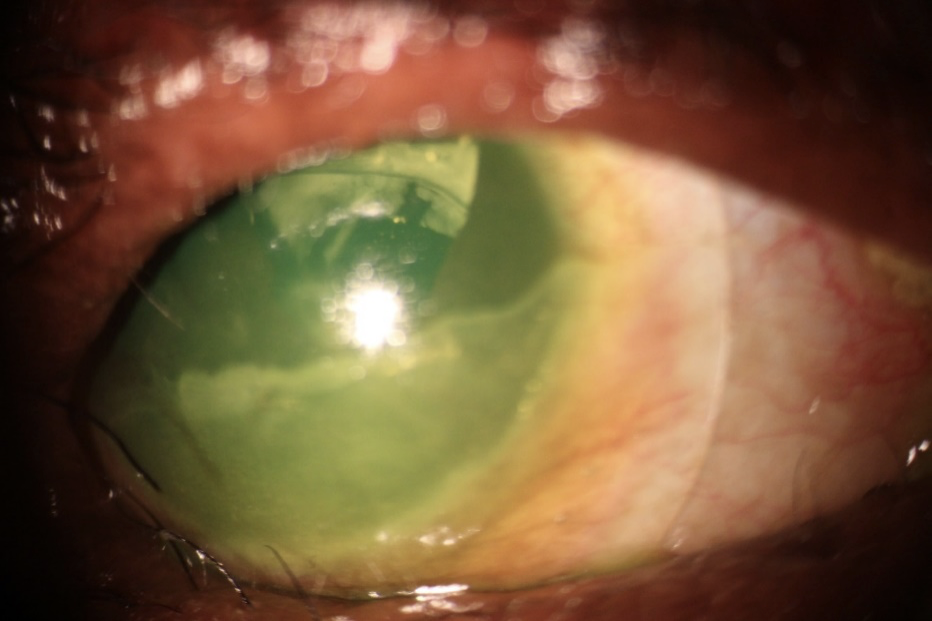 Corneal Neovascularization
Scleral lenses in itself has been shown to bring about the regression of corneal neovascularization and when used in combination with anti-vaso-endothelial growth factor agent (anti-VEGF), bevacizumab, in the fluid reservoir, it has been shown in a retrospective interventional case series to lead to significant regression of corneal neovascular vessels and vision improvement (11).
Exposure Keratopathy and Tarsorrhaphy
In conditions characterized by corneal exposure due to abnormalities in eyelid movement either due to a muscle abnormality or cranial nerve palsy preventing proper lid closure as in lagophthalmos, scleral lenses may be used to aid in corneal healing and also bring about significant visual improvement (12). The scleral lenses provide ocular surface protection with the fluid trapped between the ocular surface and lens. This protects the ocular surface and has been shown to be a suitable alternative to tarsorrhaphy in patients with lagophthalmos and corneal anesthesia (13).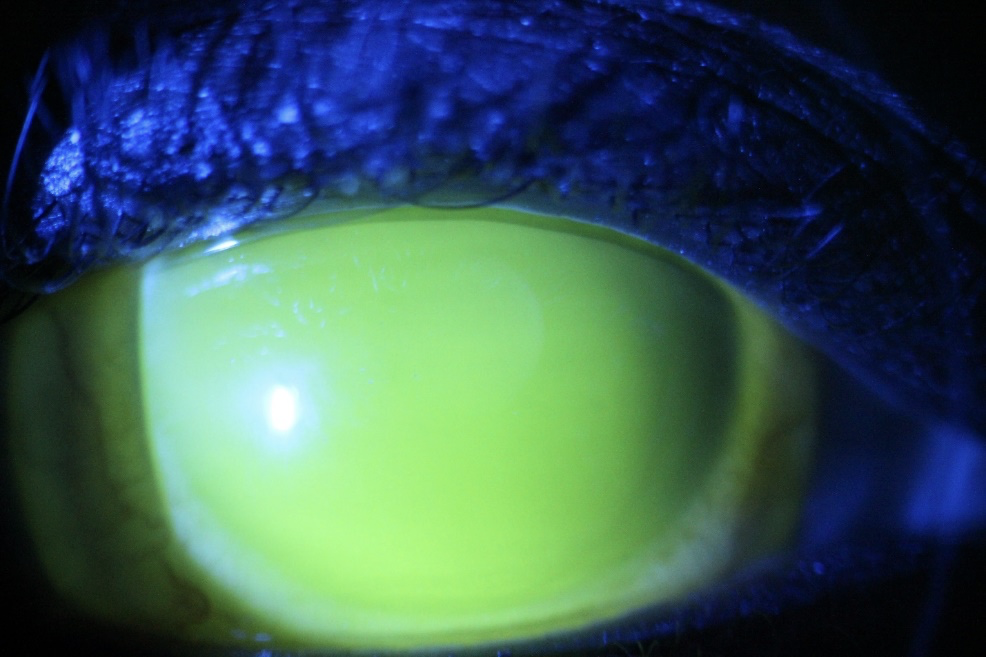 Neurotrophic keratitis
Neurotrophic keratitis is a corneal epithelial disease due to the decrease or absence of corneal sensations. Scleral lenses due to the fluid-filled reservoir underneath it have been shown to effectively provide comfort, decreased ocular surface disease, and improved quality of life in patients suffering from this condition (12,14).
Scleral lenses can also be used as a drug delivery device by putting preservative-free medications such as preservative-free antibiotics in the bowl.
Away from the ocular surface and the treasured fluid reservoir, scleral lenses also possess other therapeutic applications. Scleral lenses possess the potential to induce change in intraocular pressure (IOP), while studies indicate these devices may lead to an elevation in IOP (15), others indicate no significant effect on IOP in most subjects fit with scleral lenses (16). Despite the controversy, scleral lenses due to their rigid nature are able to provide tamponade and pressure on the scleral which is useful in cases of post trabeculectomy hypotony. Scleral lenses have been used successfully in the management of ocular hypotony after trabeculectomy to treat bleb leakage by providing tamponade to the eye and also increasing IOP (17).
Scleral lenses have even been shown to increase the vertical palpebral fissure height and aid in lifting the upper eyelids in patients with ptosis (18).
As clinicians, it is important that we offer our patients the best evidence-based care available. Scleral lenses offer a tool for managing patients with severe corneal ectasia, ocular surface disease, and other clinical conditions. While the fluid reservoir thickness underneath the scleral lens is still being studied for its physiological effect on the ocular surface, there is definitely no shortage of its therapeutic benefit in managing ocular surface disease and corneal ectasia!
References
1. Nau CB, Harthan J, Shorter E, Barr J, Nau A, Chimato NT, et al. Demographic Characteristics and Prescribing Patterns of Scleral Lens Fitters: The SCOPE Study. Eye Contact Lens. 2018 Sep 1;44 Suppl 1:S265–72.
2. Shorter E, Harthan J, Nau CB, Nau A, Barr JT, Hodge DO, et al. Scleral lenses in the management of corneal irregularity and ocular surface disease. Eye Contact Lens. 2018;44(6):372–8.
3. Harthan JS, Shorter E. Therapeutic uses of scleral contact lenses for ocular surface disease: patient selection and special considerations. Clin Optom. 2018;10:65.
4. Van Der Worp E. A Guide to Scleral Lens Fitting (2 ed.); Available from: http://commons.pacificu.edu/monohttp://commons.pacificu.edu/mono/10/.
5. Michaud L, van der Worp E, Brazeau D, Warde R, Giasson CJ. Predicting estimates of oxygen transmissibility for scleral lenses. Cont Lens Anterior Eye. 2012 Dec;35(6):266–71.
6. Sonsino J, Mathe DS. Central vault in dry eye patients successfully wearing scleral lens. Optom Vis Sci. 2013;90(9).
7. Vaidyanathan U, Hopping GC, Liu HY, Somani AN, Ronquillo YC, Hoopes PC, et al. Persistent Corneal Epithelial Defects: A Review Article. Med Hypothesis, Discov Innov Ophthalmol. 2019;8(3):163.
8. Rosenthal P, Cotter JM, Baum J. Treatment of persistent corneal epithelial defect with extended wear of a fluid-ventilated gas-permeable scleral contact lens. Am J Ophthalmol. 2000 Jul;130(1):33–41.
9. Craig JP, Nichols KK, Akpek EK, Caffery B, Dua HS, Joo CK, et al. TFOS DEWS II Definition and Classification Report. Ocul Surf. 2017 Jul 1;15(3):276–83.
10. Jones L, Downie LE, Korb D, Benitez-del-Castillo JM, Dana R, Deng SX, et al. TFOS DEWS II Management and Therapy Report. Ocul Surf. 2017 Jul 1;15(3):575–628.
11. Yin J, Jacobs DS. Long-term outcome of using Prosthetic Replacement of Ocular Surface Ecosystem (PROSE) as a drug delivery system for bevacizumab in the treatment of corneal neovascularization. Ocul Surf. 2019 Jan 1;17(1):134–41.
12. Schornack MM, Pyle J, Patel S V. Scleral lenses in the management of ocular surface disease. Ophthalmology. 2014;121(7):1398–405.
13. Weyns M, Koppen C, Tassignon MJ. Scleral contact lenses as an alternative to tarsorrhaphy for the long-term management of combined exposure and neurotrophic keratopathy. Cornea. 2013 Mar;32(3):359–61.
14. Witsberger E, Schornack M. Scleral Lens Use in Neurotrophic Keratopathy: A Review of Current Concepts and Practice. Eye Contact Lens. 2021 Mar 1;47(3):144–8.
15. Michaud L, Samaha D, Giasson CJ. Intra-ocular pressure variation associated with the wear of scleral lenses of different diameters. Cont Lens Anterior Eye. 2019 Feb 1;42(1):104–10.
16. Obinwanne CJ, Echendu DC, Agbonlahor O, Dike S. Changes in Scleral Tonometry and Anterior Chamber Angle after Short-term Scleral Lens Wear. Optom Vis Sci. 2020 Sep 1;97(9):720–5.
17. Elving-Kokke KH, Sas-Meertens MAV, de Beer FM, van Rijn LJ, de Boer JH, Visser ES. The treatment of ocular hypotony after trabeculectomy with a scleral lens: A case series. Cont Lens Anterior Eye. 2019 Feb 1;42(1):123–6.
18. Katsoulos K, Rallatos GL, Mavrikakis I. Scleral contact lenses for the management of complicated ptosis. Orbit. 2018 May 4;37(3):201–7.